We Delivered Record Financial Performance in 2021.
During 2021, our team produced solid results as net income was a record $340 million, driven by a 19% increase in total revenue, which totaled $770 million. The record level of total revenue and continued improvement in our efficiency ratio was a direct result of our ability to gain scale and quickly realize synergies through successfully executing our acquisition strategy. Throughout the year, we continued to drive stockholder value as tangible book value per share increased 9% from 2020. Additionally, we returned $140 million in capital to our stockholders during 2021, which included a 10% increase in our quarterly dividend to $0.33 per share in the second quarter of 2021.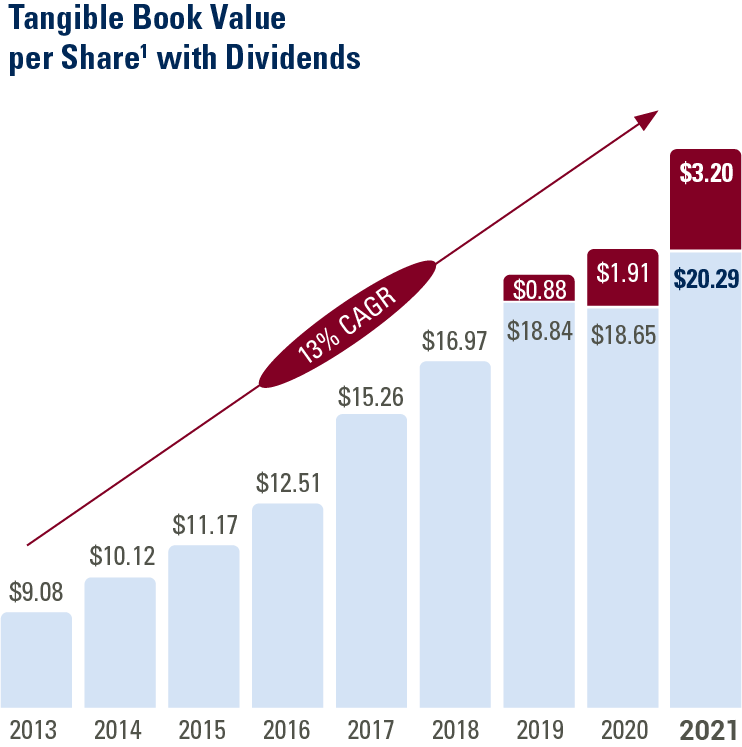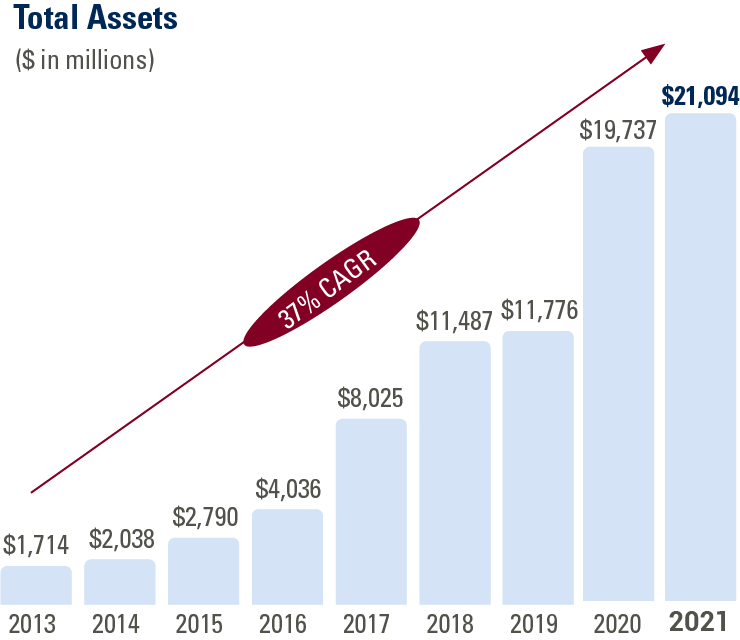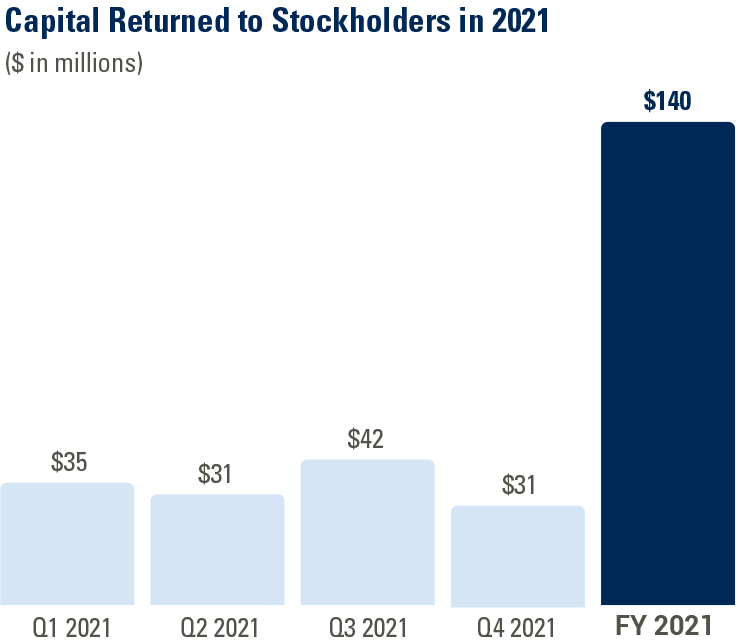 1 A reconciliation of the non-GAAP measures of tangible book value per share and efficiency ratio derived from GAAP measures are set forth in the "Non-GAAP Reconciliation" section included herein.
Tangible Book Value per Share
For the Year Ended December 31,
(Dollars in thousands, except per share data)
2013
2014
2015
2016
2017
2018
2019
2020
2021
Total stockholders' equity
$175,226
$199,592
$298,980
$459,740
$1,241,996
$1,969,697
$2,012,594
$2,746,649
$2,886,311
Less: intangible assets
(24,056)
(28,564)
(58,002)
(111,941)
(536,343)
(909,282)
(891,634)
(984,076)
(970,883)
Tangible common equity
$151,170
$171,028
$240,978
$347,799
$705,653
$1,060,415
$1,120,960
$1,762,573
$1,915,428
Basic shares outstanding
16,656,279
16,903,884
21,570,746
27,798,283
46,245,050
62,480,755
59,506,057
94,483,136
94,389,543
Book value per share
$10.52
$11.81
$13.86
$16.54
$26.86
$31.52
$33.82
$29.07
$30.58
Less: intangible book value per share
(1.44)
(1.69)
(2.69)
(4.03)
(11.60)
(14.55)
(14.98)
(10.42)
(10.29)
Tangible book value per share
$9.08
$10.12
$11.17
$12.51
$15.26
$16.97
$18.84
$18.65
$20.29
Efficiency Ratio
For the Year Ended December 31,
(Dollars in thousands)
2013
2014
2015
2016
2017
2018
2019
2020
2021
Total noninterest expense
$50,815
$54,938
$73,332
$98,063
$167,958
$249,905
$259,065
$381,119
$380,277
Less: amortization of intangible assets
(764)
(1,014)
(1,350)
(2,039)
(6,144)
(13,594)
(17,245)
(17,072)
(15,936)
Less: other real estate owned operations, net
(618)
(75)
(121)
(385)
(72)
(4)
(160)
(1)
---
Less: merger-related expense
(6,926)
(1,490)
(4,799)
(4,388)
(21,002)
(18,454)
(656)
(49,129)
(5)
Noninterest expense, adjusted
$42,507
$52,359
$67,062
$91,251
$140,740
$217,853
$241,004
$314,917
$364,336
Net interest income before provision for loan losses
$58,444
$73,635
$106,299
$153,075
$247,502
$392,711
$447,301
$574,211
$662,374
Add: total noninterest income
8,811
13,377
14,388
19,602
31,114
31,027
35,236
71,325
107,850
Less: net gain from investment securities
(1,544)
(1,547)
(290)
(1,797)
(2,737)
(1,399)
(8,571)
(13,882)
(16,906)
Less OTTI impairment - securities
4
29
-
205
(1)
(4)
(2)
(2)
(10)
Less: net (gain) loss from other real estate owned
-
-
-
(18)
(46)
(281)
(52)
112
---
Less: net loss from debt extinguishment
-
-
-
-
-
-
612
-
180
Revenue, adjusted
$65,715
$85,494
$120,397
$171,067
$275,832
$422,054
$474,524
$631,764
$753,488
Efficiency Ratio
64.7%
61.3%
55.9%
53.6%
51.0%
51.6%
50.8%
49.8%
48.4%